Posts for: January, 2015
By Mountain View Dental
January 29, 2015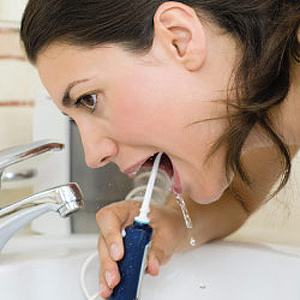 A critical part of effective, daily oral hygiene, flossing removes bacterial plaque from between teeth that can't be accessed with brushing. Unfortunately, it's often neglected — string flossing requires a bit more dexterity than brushing and can be difficult to do properly.
It can be even more difficult for people with implants or who wear orthodontic appliances. For brace wearers in particular, getting access to areas between teeth with string floss is next to impossible; the metal brackets and tension wire also have a tendency to catch and retain food debris that's difficult to remove with brushing alone.
Water flossing, using a device called an oral irrigator, is an effective alternative that addresses many of these difficulties. First available for home use in the 1960s, an oral irrigator delivers pulsating water at high pressure through a handheld applicator that forcefully flushes material from between teeth.
There's no question that string flossing is effective in plaque removal between teeth — but what about oral irrigators? A 2008 study looked at a group of orthodontic patients with braces who used oral irrigators and compared them with a similar group that only brushed. The study found that five times as much plaque was removed in the group using the oral irrigators as opposed to the group only brushing.
Oral irrigators may also be effective for people who've developed periodontal (gum) disease. In fact, oral irrigators coupled with ultra-sound devices are routinely used by dental hygienists to remove plaque and calculus (hardened plaque deposits) in periodontal patients. As with regular oral hygiene, though, it's important for patients with gum disease to include water flossing with daily brushing (at least twice a day) and regular cleaning sessions at the dentist to ensure removal of all plaque and calculus.
If you're interested in using an oral irrigator, be sure to consult with us at your next appointment. Not only can we recommend features to look for in equipment, but we can also instruct you on the techniques to make water flossing an effective plaque remover.
If you would like more information on water flossing, please contact us or schedule an appointment for a consultation. You can also learn more about this topic by reading the Dear Doctor magazine article "Cleaning Between Your Teeth."
By Mountain View Dental
January 14, 2015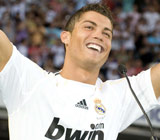 He's the world's highest-paid soccer player: a forward on the Spanish club Real Madrid, and captain of the Portuguese national team. His super-toned body is featured in a series of advertisements, and he's regularly seen with a supermodel on his arm. So would it surprise you to know that it took a bit of dental work to help Cristiano Ronaldo get a world-class smile?
You might never guess it to look at him now — but when he was 18 years old, and just starting his professional career with Manchester United in England, Ronaldo wore ceramic braces to correct a set of teeth that were quite a bit… off-sides. (As pictures from that time show, his teeth were out of alignment and had irregular spacing.) Yet in a relatively short time, his smile was completely transformed.
Ceramic braces are the treatment of choice for many sports stars and celebrities — and plenty of "regular" folks too. They work just like traditional all-metal braces, exerting a gentle force that slowly moves the teeth into better positions. But they have one major difference: They're a good deal harder to notice.
That's because instead of having brackets made of metal, this style of braces uses a high-tech ceramic material to attach the archwire to the teeth. The brackets blend right in with the natural shade of the tooth, so all you can see from a distance is the thin metal wire. That makes them a great orthodontic option for image-conscious celebs (like Tom Cruise and Faith Hill, who both wore them) — as well as anyone who may be concerned that traditional metal braces don't fit in with their "look".
In addition to ceramic braces, there are other, less-visible orthodontic treatments that can work just as well in many situations. One is lingual braces, which are similar to traditional braces — except they are applied on the tongue-side of the teeth, making them truly invisible. Another is clear aligners, a series of transparent plastic trays that are worn 22 hours a day and gradually move the teeth into more pleasing positions. What's the best way to know which system is right for you? Come in and talk to us about your options!
Besides braces, did Cristiano Ronaldo have other cosmetic dental work (like teeth whitening) done? It's possible, but he's not saying exactly. Yet, as he told a Portuguese magazine, "I feel good about myself and that's the most important thing."
If you would like more information about ceramic braces or other orthodontic treatments, please contact us or schedule an appointment for a consultation. You can learn more in the Dear Doctor articles "The Magic of Orthodontics" and "Orthodontics For The Older Adult."